Italo Disco Festival
Here's first info about the event:
Flashback Records organizes an international Italo Disco event with its partners
at Hotel Tallukka in Vääksy (Finland) on the last weekend of July (28-30th July).
The event starts on Friday evening at 20:00 in the hotels' big hall, Tallukka Arena (2nd floor). International DJs lead the evening towards the artist performances. On Friday night there will be several Italo Disco artists performing, the 80s legends but also some new generation acts. The evening ends at 01:30 for the last DJ set.
The event continues on Saturday afternoon at the hotel with a record fair (at 14.00-17.00). There will be private sellers, but also Italo labels selling their productions. In the afternoon there will also be "Terrazza Disco" (weather reservation) where the party guests can enjoy Italo summer hits with refreshments and snacks from the lobby bar of the hotel. At 17:00, in the small hall of the hotel, there will be a panel discussion, where the artists will go back in time and talk about their careers, recording sessions and productions. The Saturday evening party starts with the first DJ set at 19.00 in Tallukka Arena. The first artist performance will be seen around 21.30 and the evening ends again at 01.30.
Date: 28.–30. July 2023
Starting at 20.00 on Friday (Tallukka Arena, 2nd floor)
Location: Hotel Tallukka, Vääksy – Finland
Tickets: 30.00e/night (from the door)
Hotel package: +358 3 88881
(including room, breakfast, sauna, gym, event tickets, also possibility for the bus transport 30 €/person from & to the Helsinki airport) 
On Friday:
Evening party in Tallukka Arena (at 20.00-01.30)
– Artists and international DJs
On Saturday:
Terrazza Disco during the afternoon (on the hotel terrace, weather reservation)
Italo record fair at 14.00-17.00 (Hotel Tallukka, 1st floor)
– Products from many different labels
Italo panel discussion at 17.00-18.00
– The artists return to the 80s and talk about their music, careers, recording sessions
Evening party in Tallukka Arena (at 19.00-01.30)
– Artists and international DJs
Hotel package prices:
Standard room for 1 person 109 €/night, Standard room for 2 persons 150 €/night, Superior room for 2 persons 184 €/night, Standard room for 3 persons 210 €/night, Superior room for 3 persons 246 €/night, Standard room for 4 persons 260 €/night
Stay tuned!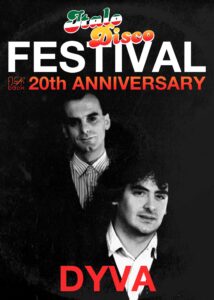 The Dyva story began already in the 70s when Massimo Traversoni and Roberto Calzolari formed their first progressive rock band "The Stage". In the beginning of the 80s the music scene in Italy was changing by the sound of synthesizers, and also Massimo and Roberto started writing and producing songs under the name Dyva. Their first record "Oh Mama Tonight!" was supposed to be released on Turin Bootlegs label, but the label was shut down just before. The song appeared only on label promo release (1986). Later in the 80s Dyva got released on two different vinyls "I Know" (1987) and "Cannary The Canary" (1990) by Lombardoni on his Technology label.
In the 90s Massimo and Roberto started a collaboration with Roberto Zanetti. They were released under many different names on many different projects on Zanetti's DWA label.
In 2003 the meeting with Kimmo Salo (Flashback Records) in Sestri Levante, Italy started a new chapter in Dyva history. The cooperation began by relauncing "Oh Mama Tonight!" and a while after "Clap Again" was released. This was the beginning of Flashback Records label, but also a start of a long term friendship that has produced numerous 12″ releases and two full length albums in classic Italo Disco style.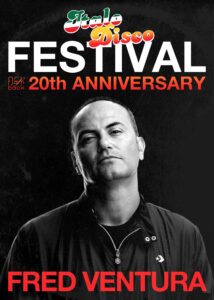 One of the most iconic Italo Disco artists, Fred Ventura, started his musical journey in the late 70s as a drummer in several bands. In the early 80s he became the lead singer of the band State Of Art and his solo career began immediately after leaving the band in 1982.
Fred can be considered to be one of the pioneers of Italo Disco sound. In 1983 he got together with legendary producer duo Chieregato-Turatti. The smash hit "The Years (Go By)" was born. Besides using his own name, he appeared on many other projects under different alias' like Flexx, Myxoma and Fokewulf 190.
In the mid 80s Fred started to work with the production team Farina-Crivellente. As a result of this collaboration Time Records released eight 12″ vinyls and a full length album between the years 1986-1989.
In the late 80s and early 90s Fred worked more on Eurobeat and house music scenes and started to produce and remix other artists in various musical genres.
Fred has been one of the most productive Italo artists after the turn of the millenium. He has worked for many different labels, with many different producers and also created a label of his own: Disco Modernism. Recently Fred has been concentrated mostly on his Italoconnection project together with Paolo Gozzetti, releasing five albums, performing live, remixing and producing many other artists.
The collaboration with Flashback Records started in 2008. The first release "Open Your Eyes" has been a big hit among the Italo fans. The cooperation has continued during the years and resulted in 10 different vinyl releases.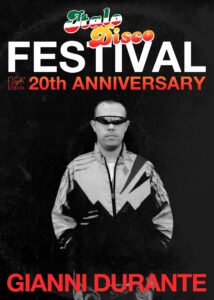 Hungarian Sandor Mate is a real New Generation Italo artist. He discovered Italo Disco music on his father's old cassettes at the age of eight. Now, when being almost thirty, he is not only a fan, but also a composer, arranger and an artist.
Sandor started to make music at the age of 15. Few years later he met Clay and the collaboration for the Energy Voice project started. Beside projects with Clay, Sandor worked also on his own projects under different pseudonyms. He started to make remixes (also for other artists) under the name Electro Potato.
In 2018 he created a solo project called Gianni Durante. The first Gianni Durante vinyl was a self funded 7″ single "My Heart Is On Fire". It became very popular among the Italo audience and a while after another Gianni Durante 12″ vinyl "Queen Of The Night" was released by AMD Records.
The Collaboration with Flashback Records started in 2019 with Electro Potato Remix of "Italove – At The Disco". Since then Sandor has appeared on several Flashback releases, sometimes as a composer/arranger, sometimes as a remixer or an artist.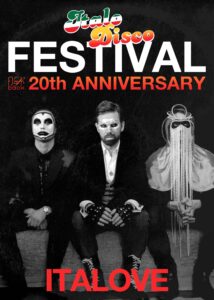 One day, around 12 years ago, DJ Dave Laroxx had an idea of creating an Italo Disco project. He contacted his friend, Dr. Mateo who was a songwriter but also a passionate Italo fan. Mateo was "in" right away. By coincidence he met singer Martin Blix, who also got excited about the project and wanted to be involved as well. Italove was born.
The mastermind, Dr. Mateo started to work on some new tracks and after a while he sent a demo of "Strangers In The Night" to Martin and Dave. They were totally impressed. Martin asked his friend Jimmy to produce the track. In the next weeks Mateo came up with two other songs, "L'Amour" and "Soldiers Of Love".
The guys started to look for contacts that might be interested in releasing the tracks. Someone suggested Italove to contact Fred Ventura, and so they did. Fred directed them forward to Kimmo Salo, the manager of Flashback Records, who immediately wanted to sign Italove and release "L'Amour" as the first Italove single. Another single "Strangers In The Night" followed shortly after. This was the beginning of the Italove parade which has so far brought 12 vinyl releases to the delight of their fans.
Since the first Italove appearance on stage in Vääksy (Finland) in 2012, the band has brought their energetic live show to venues all over the world.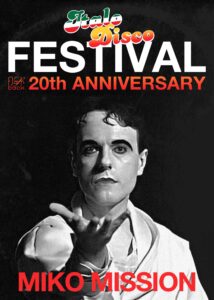 Pier Michele Bozzetti (known as Miko Mission on the Italo Disco scene) started his musical career as a singer at the age of seven. He signed his first recording contract in 1964 with Ariston Records. He entered the Sanremo Music Festival a couple of times during the 60s and 70s.
The revolution in the electronic music scene led him to disco music. Miko started to write Italo Disco tracks with his composer partner Graziano Pegoraro. As a result of the collaboration many Italo hits entered the European charts, for example Silver Pozzoli – Around My Dream, Taffy – I Love My Radio, and of course Miko's biggest hits: "How Old Are You?", "The World Is You" and "Two For Love". Beside this, he lent his voice to many different projects as a lead or backing vocalist.
Later in the 80s Miko worked also together with Farina-Crivellente giving his contribution for hits like "Week-End", "Monnalisa" and "Ring The Bell".
Bozzetti's long musical journey is still continuing. The latest Miko Mission track was released by I Venti Records in 2020 and now we're going to see him on stage in Vääksy (Finland) on 29th July 2023.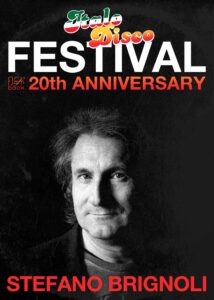 Stefano Brignoli started his adventure in the Italo Disco scene in the early 80s together with his friends Marino Scarabelli and Tiberio Scarfone. The first collaboration by the team "Some Bizarre – Don't Be Afraid" was released in 1983 by Il Discotto. The big success came from the project Brand Image with "Are You Loving", "Movin' Up" and "Love In A Summer Night".
Beside Brand Image productions, Stefano started to work for Atlantide Music label with Richard Milella and Corrado Manzoni. He wrote songs for artists like Webo, Deborah Kinley and Cherry.
In 2015 Stefano and Marino came back to Italo scene, and released two Some Bizarre vinyls together with I Venti Records and Flashback Records. The same labels continued collaboration with Stefano some years later by releasing his projects with Tiger Club.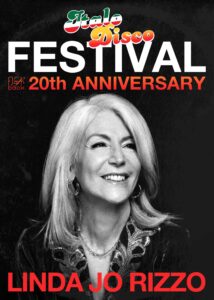 The Italian-American Linda Jo Rizzo was born In New York and lived there in her youth. Linda's dream to be in the spotlight started with a fashion modeling career that took her to Milan, Italy.
After her fashion career, Linda returned to NY and met Bobby Orlando there. She became a member of Bobby "O"'s girl group, The Flirts. Linda was able to enjoy the success of The Flirts with their biggest hits like top ten banger "Passion", "Calling All Boys" and "Danger".
After touring with The Flirts, Linda started her solo career in 1985 which brought her to Germany. She collaborated with Tess (better known as Fancy) by writing and singing songs ("Heartflash", "You're My First, You're My Last", "Perfect Love" etc.) that were released by ZYX Records (Germany).
Today Linda is still an active singer and entertainer, recording new tracks and having concerts all over the world.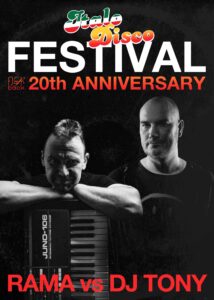 Markku Raski, better known as RAMA, is a Finnish producer/composer who started experimenting with electronic music in the late 80's. With his Italo Disco influences and ear for catchy melodies, he dominated dance charts in his homeland with his massive eurodance anthem "Light My Fire" in 1996. After a long hiatus, Rama returned to the music scene in 2010's, remixing his back-catalogue and producing brand new music. Free to do what he loves, Rama has kept busy for the past few years making both dance and spacesynth tracks (released on Space Sound Records label) with his impressive hardware synth arsenal.
Toni Kurkimäki might well be best known as DJ TONY, a retro/90's DJ and radio personality, but music fans know him as an accomplished producer as well. As part of producer teams Syna, DeCall and Deck Jagger, his trademark breakbeats and 80's influenced sounds have been heard in countless trance and house productions. It's no secret that he's got a soft spot for Italo and spacesynth, as he's taken to the decks with his collection of Italo 12"'s many times.
With their similar backgrounds, technical expertise and shared love for spacesynth, Rama and DJ Tony are teaming up for the very first time in Vääksy.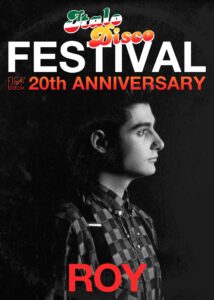 The first track by Roy (Ubaldo Zambelli) was released in 1986 on Memory Records label. The song was known all over Europe, but especially successful it was in Spain, being one of the big hits of the summer season.
In 1987 the second single, "Shooting Star (Six Times)" was released, again by Memory Records. In addition to Spain it achieved great success in South America and especially in Mexico.
In 1988, After house music revolution started, Roy founded a dance band "House Machine" which was very active performing all around Italian most established clubs, up to great shows held in Milan and Rome. In the late 80s Roy created his own label, Endless Wave, on which he published a dozen dance productions.
Until 1995 Roy worked as a producer for himself and for other artists, creating dance songs and soundtracks for cinema and TV.
37 years after his debut, Roy came back to the Italo Disco scene in collaboration with the Flashback Records team, with a brand new track "Run For Your Life".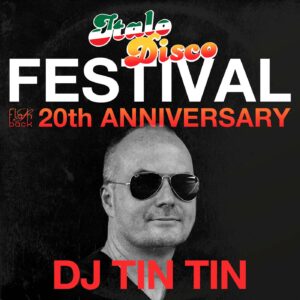 After some break, we're back with Festival announcements. Before announcing the last artist, we will continue with party DJs; all internationally well known Italo DJs.
The first one is DJ Tin Tin from Norway:
Tommy Olsen aka DJ TinTin's love affair with Italo Disco began in 1983 when hearing P. Lion's "Happy Children" on the radio. The Swedish Italo Disco label "Beat Box" would later open his eyes to the magic of this genre, sparking a passion that would leave him on a lifelong journey with one mission; to spread the gospel of Italo Disco to anyone that would listen. TinTin is a true Italo Disco purist. Beside DJing, he's also a cutting-edge music producer. With his 2021 New Generation Italo Disco track "Come On" featuring Fred Ventura and the recent remixes of Italoconnection's 'Since You Went Away" and Art Fine's "Dark Silence" making waves on the dancefloor.For over 30 years, DJ Tin Tin has performed at clubs across Norway and the Nordics, including Iceland; Sweden and Denmark. And now for the first time, he is bringing his Italo Disco set to Finland and the "Flashback 20th Anniversary party", where he'll dig deep in his crates to deliver edits of his all-time favourites and a couple of brand new remixes that will soon be available on vinyl!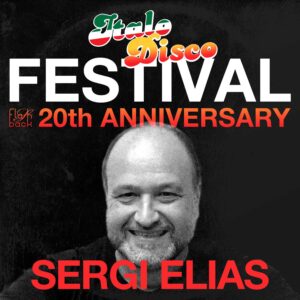 DJ Sergi Elias
Spanish Sergi Elias started mixing records when he was only 12 years old. One year later he joined a local radio station crew and started working with reel to reel tapes. Since those early days he has been passionate with music, especially mixing it.
Sergi's DJ career started in 1984 with all kinds of music but during the last years he has been focusing mainly on Italo Disco, synthpop and nudisco, combining old stuff with the new. Sergi has a passion for creating live mashups with Italo Disco, mixing even 60 tracks per hour.
Beside DJing Sergi had a career in Business Administration, but as a passionate music activist, he decided to start working for Blanco y Negro Music in 1996, first as a salesman, but ending up being the A&R and content manager. He's been also producing music for ByN (bands as Andermay, Synergic Silence, Yuhniversia) and joining the forces with Italoconnection (Fred Ventura & Paolo Gozzetti) on many different projects.